Home Staging in San Diego
2790 Loker Ave. W, Carlsbad, CA 92010

San Diego Home Staging Blog
Homescapes Home Staging San Diego was honored to receive the 2018 Houzz Award for Customer Service.  This marks the fifth year in a row that the company has been honored by Houzz.  
Homescapes Home Staging - San Diego
Awarded Best Of Houzz 2018
Over 40 Million Monthly Unique Users Nominated Best Home Building,
Remodeling and Design Professionals in North America and Around the World
PRESS RELEASE: Carlsbad, CA
,
January 21, 2018
–
Homescapes Home Staging
of
 Carlsbad, CA
has won
"Best Of  Service"
on
Houzz
®, the leading platform for home remodeling and design. This award winning home staging company was chosen by the more than 40 million monthly unique users that comprise the Houzz community from among more than one million active home building, remodeling and design industry professionals.
The Best Of Houzz is awarded annually in three categories: Design, Customer Service and Photography. Design award winners' work was the most popular among the more than 40 million monthly users on Houzz. Customer Service honors are based on several factors, including the number and quality of client reviews a professional received in 2017. Architecture and interior design photographers whose images were most popular are recognized with the Photography award. A "Best Of Houzz 2018" badge will appear on winners' profiles, as a sign of their commitment to excellence. These badges help homeowners identify popular and top-rated home professionals in every metro area on Houzz.
"Our goal is to offer home staging at the highest level of customer service with a high-end look at reasonable prices in order to help our clients sell their home quickly & for the best price."
"The Houzz community selected a phenomenal group of Best of Houzz 2018 award winners, so this year's recipients should be very proud," said Liza Hausman, Vice President of Industry Marketing at Houzz. "Best of Houzz winners represent some of the most talented and customer-focused professionals in our industry.
Follow Homescapes Home Staging on Houzz http://www.houzz.com/projects/users/jburzell
About Homescapes Home Staging
Judith Burzell started Homescapes Home Staging after several years of remodeling homes & seeing the dramatic difference it made to a sale when the home was staged.  The company has received multiple industry awards over the years & is dedicated to providing quality staging accompanied by excellent customer service.
About Houzz
Houzz is the leading platform for home remodeling and design, providing people with everything they need to improve their homes from start to finish – online or from a mobile device. From decorating a small room to building a custom home and everything in between, Houzz connects millions of homeowners, home design enthusiasts and home improvement professionals across the country and around the world. With the largest residential design database in the world and a vibrant community empowered by technology, Houzz is the easiest way for people to find inspiration, get advice, buy products and hire the professionals they need to help turn their ideas into reality. Headquartered in Palo Alto, CA, Houzz also has international offices in London, Berlin, Sydney, Moscow, Tel Aviv and Tokyo. Houzz and the Houzz logo are registered trademarks of Houzz Inc. worldwide. For more information, visit
houzz.com
.
Home staging in San Diego is rapidly becoming a standard practice used by homeowners to help prepare in the sale of their home.  Homeowners are realizing that the value added by staging their home is one of the best returns on investment that they can make when preparing to put their home on the market.
What can you expect when you hire someone to stage your home?
Every room in your home can be enhanced by staging!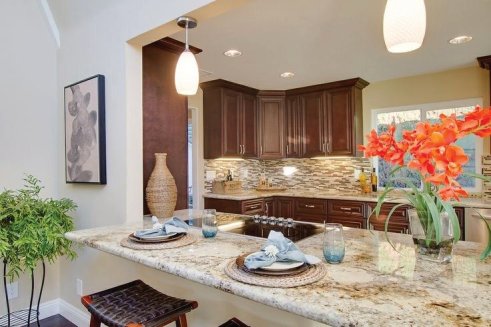 Whenever you are considering hiring a home stager be sure to check samples of their work, either on their website or a site such as Houzz.  
What you choose to do will depend on the circumstances of your sale. Is your home occupied or vacant?  Stagers offer services to occupied homes that range from a design plan, organization, upgrades, recommendations & staging.  
For occupied homes, stagers will try to use what you have on hand, streamlining the look of each room to make it appealing to buyers. They may recommend bringing in furniture & accessories as needed to make the most of your home.
Home staging companies will often offer different levels of services, such as a consultation or a MiniMakeover, where their staff will make changes that will allow you to get your home on the market quickly.  Most stagers will offer shopping services & redesign. 
Most home staging companies also offer staging to vacant & model homes.  In those cases, you will need to decide with the stager which rooms are best ones to be staged.  Generally, the most important rooms to stage are the first ones you see as you walk in - that is the best opportunity to make a great first impression.  Other important rooms to stage besides the main living area, are the dining room, kitchen & bedroom. 
A well-staged bedroom will make a home look warm & inviting!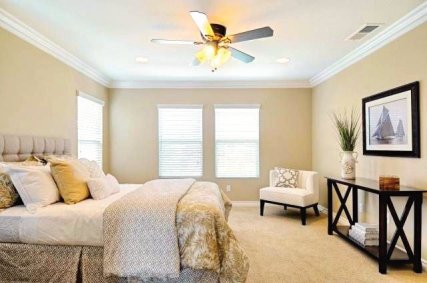 Why is curb appeal so important!
The first thing a potential buyer is going to see when they drive up to your home is the view from the street.  This is your best opportunity to make that great first impression.  
Landscaping & front yard improvements are relatively inexpensive & give you a great return on your investment!  Fresh plants, cleaning up & trimming, & adding fresh, colorful flowers will make a tremendous difference to how your property looks to a buyer.  A good home stager will make recommendations that are cost-effective & help highlight that first look!
This homeowner took full advantage of the outdoor space, using large colorful plants, adding a new walkway, trimming & setting the stage with comfortable porch seating!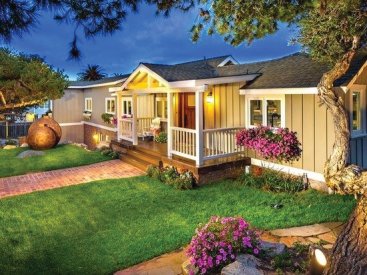 What about outdoor spaces?
In San Diego, where outdoor living is year-round, it is important to consider staging your outdoor space. Our climate allows us to enjoy patio living in just about any season - in our area enhancing the patio & yard can make the difference in the sale of your home.
In San Diego, staging outdoor areas is often your best choice!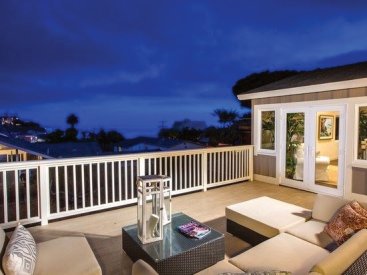 In most cases we recommend that the seller make the most of their backyard by taking care of landscaping, adding colorful plants & staging their outdoor living space.
In San Diego, a good choice for landscaping is often native plants that grow well in the area but require little water.  Choosing low-water use, native plants helps the environment & lowers your water bill at the same time!
Other consideration on hiring the right professional for you:
When you are looking for a home stager, ask the company representative about their business model & whether or not they own their own inventory or plan to rent from a furniture rental company. Some staging companies rely entirely upon rental furniture. Almost all provide their own accessories for rental. 
Either option or a combination of both, may be the best choice for you depending upon the unique features in your home.
When discussion staging options for your home, the company representative should be familiar with the San Diego real estate market.  Ask for references & check testimonials.  
As you interview stagers check to see if they ask you questions that are relevant to the sale of your home, such as size, number of bedrooms, year built, floor plan, whether it is a single family dwelling, & single or multi-story. They should ask for a general description of the property, lot size, its condition, unique features, when you are planning to put the home on the market, & any issues that may concern you about the impending sale.
What about staging the entryway?
The entry way is the potential buyer's first introduction to the inside of your home. This point of view has the most potential to grab a buyer's interest & help them see themselves living in this home. Even the smallest touch of color & warmth can help draw a buyer into the home & set a welcoming tone!
A beautiful painting set at the entry warms the space & invites the buyer in!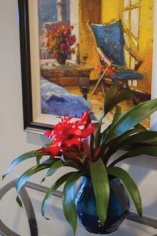 Qualifications ~
A good stager will have credentials & experience - ask them about their work & training.  We offer a review of the property & a detailed bid for larger projects.  Our company approaches the sale of your home as if it were our own - our primary goal is to help get your home sold quickly & for the price you want, not to showcase our design abilities.  
Staging should highlight the best features of your home, emphasize the unique aspects of the home that will help it sell & help potential buyers to see past minor issues that are easily resolved, so that they are ready to make that offer!
What it means to "define the space"
Before staging it was difficult for buyers to see how this space could be used - with staging it becomes a clearly defined extra living space!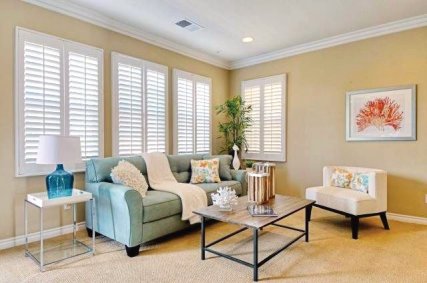 The home stager you hire should approach each space in your home as a potential buyer would.  
A good home stager will look at each area of your home from the point of view of the buyer, asking the same questions someone looking at the home would buy.  
Common questions are "what is the purpose of this space", "how can I use this room", "will my furniture fit this room", "are there any problem areas I see"? 
An essential part of staging your home is helping to address & answer those questions before a buyer walks through the door, showing each room to its best advantage.
A home stagers job is first & foremost to help you get your home sold.  
Getting it Sold!
A well-staged home will enhance the property's best features without overwhelming the space.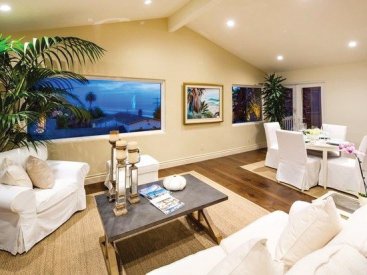 To find the best stager in your area to help you sell your home, look at their experience, credentials, samples of actual work completed, testimonials & see how comfortable you are with their presentation.  
Your home stager is an essential part of the team that will help you sell your home so be sure you pick a company that you feel confident can provide you with what you are looking for!
Your home is often one of the most valuable assets you will own - taking the time to find the right staging company is essential to making the most of that asset!  
And remember - staging sells!
/